http://sports.espn.go.com/mlb/news/story?id=4064793
WASHINGTON -- Longtime Philadelphia Phillies broadcaster Harry Kalas has died at the age of 73, team president David Montgomery said Monday.
[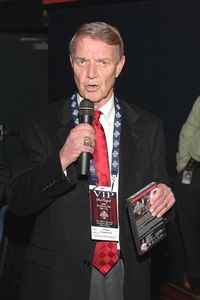 Kalas, who had also filled a voiceover role for NFL Films since 1975, was taken to a hospital after passing out in the broadcast booth before Monday's game against the Washington Nationals.
Montgomery's voice was cracking as he said "we have lost our voice."
The 73-year-old Kalas, known for his distinctive "Outta here!" call on home runs, was found by the Phillies director of broadcasting at about 12:30 p.m., Montgomery said.
"He has loved our game and made just a tremendous contribution to our sport and certainly to our organization," Montgomery said.
Kalas had surgery earlier this year for an undisclosed ailment that the team characterized as minor. He looked somewhat drawn last week as the Phillies opened the season at home.
Kalas joined the Phillies in 1971, the year the club moved into their former home, Veterans Stadium, replacing fan favorite Bill Campbell. Before that, he was an original member of the Houston Astros' broadcast team from 1965-70. Kalas also broadcasted NFL games for Westwood One Radio Network.
He wasn't immediately embraced by Phillies fans, despite being paired with Richie Ashburn, a Hall of Famer as a player, and longtime announcer. But Kalas evolved into a beloved sports figure in Philadelphia. He and Ashburn grew into a popular team, and shared the booth until Ashburn's death in 1997.
In 2002, he received the Baseball Hall of Fame's Ford C. Frick Award for his contributions to the game.
Information from The Associated Press was used in this report.