JOSH HAMILTON (2008)
If ever there was one man who summed up exactly how misleading that list of Derby "winners" can be, Josh Hamilton would be that man.
[+] Enlarge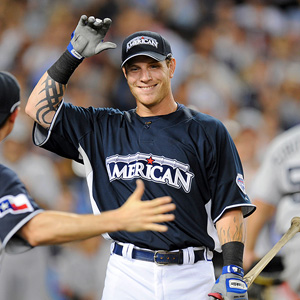 Rob Tringali/Getty ImagesYou remember
Josh Hamilton
's performance at last year's Home Run Derby. Do you remember
Justin Morneau
actually won?
On a magical July evening just one year ago, he turned Yankee Stadium into his own personal Wiffle Ball park, launching 35 baseballs into places only NASA should be able to reach.
And he "lost."
The Home Run Derby historians -- folks clearly still looking for ways to fill those other 364 days a year -- will forever tell us that Twins first baseman Justin Morneau was the "winner" of this event. But that doesn't mean it wasn't Hamilton's night.
And all it took for him to hijack this night was the 28 home runs he hit IN ONE ROUND.
Before Hamilton started pounding baseballs halfway to the Statue of Liberty, only one man (Bobby Abreu, in 2005) had ever hit 28 Derby home runs in one NIGHT, let alone one round. But that was one of about 9 trillion historical Derby milestones that Hamilton obliterated with his little magic show.