Just flew in from time traveling to see if the Rangers won this series against the Blue Jays and boy are my arms tired from waving middle fingers at ESPN:
Not a single one of those jokers picked the Rangers to win the series and, joke's on them, the Rangers did indeed take the series three games to two.
In game one, David Price finally got the better of the Rangers and their hot bats in a playoff game and the Blue Jays were able to get some runs off of Yovani Gallardo. No surprise in this one. Also not a surprise, the full blown panic on this here website and Twitter after the Rangers trailed the series by a game.
No worries, though. Cole Hamels started Game 2 and did Cole Hamels things to the Blue Jays despite being left-handed and the Blue Jays being essentially the 21st century's version of Murderer's Row against left-handed pitching (and right-handed pitching too, mostly). On offense, Rougned Odor hit two home runs, the second of which he put a cupped hand up to his ear to hear the boos as he rounded the bases.
Game 3 saw the return of postseason baseball in Arlington and despite a raucous crowd, the Rangers lost when Derek Holland was hit so hard the Wild Thing haircut was singed back onto his dome. During the post game press conference, FOX Sports 1 would not let Holland leave until he did a zany impression despite his tearful pleas to be left alone.
There was a slight hiccup in the time travel device. It turns out that Martin Perez started this game. It makes FS1's demands for an Arnold Schwarzenegger impression from the Rangers' starter all the more baffling.
The Rangers were able to stave off elimination thanks to a heroic performance from Colby Lewis. Half of the Blue Jays didn't even show up for the game because they figured it was their offense against a 56-year-old dad with robotic parts keeping his body together who constantly looks like he just remembered that he forgot to mow the lawn.
Game 5. David Price vs. left-handed playoff god acquired in July. In a dome. Artificial turf. AL East Champs vs AL West Champs. Some things are just meant to be.
Here's how the schedule went:
Thursday, October 8 2:37 pm: LHP David Price vs RHP Yovani Gallardo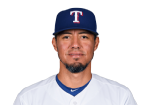 Friday, October 9 11:45 am: RHP Marcus Stroman vs LHP Cole Hamels
Sunday, October 11 7:10 pm: RHP Marco Estrada vs LHP Martin Perez
Monday, October 12: RHP
R.A. Dickey

vs RHP Colby Lewis
Wednesday, October 14: LHP David Price vs LHP Cole Hamels
Toronto Blue Jays (93-69, AL East Champs)
Rangers' Record vs. Toronto: 2-4 in the regular season, 3-2 in October

Toronto's Recent Results: Losing a series to the Rangers in five games
Toronto's Regular Season Home Record: 53-28
Toronto's Regular Season Road Record: 40-41
The Ballpark Park Factors (LHB/RHB): HR: 97/100 - Runs: 109/105
Rogers Centre Park Factors (LHB/RHB): HR: 110/119 - Runs: 98/101
SB Nation Blue Jays Blog: Bluebird Banter
| | | | |
| --- | --- | --- | --- |
| Match-up: (as of 10/08) | Rangers | Blue Jays | Advantage |
| Batting (RAR) | -28.0 (18th) | 120.9 (1st) | Gulp |
| Base Running (RAR) | 19.1 (1st) | 10.2 (5th) | We're #1! |
| Starters (RAR) | 89.1 (17th) | 102.2 (15th) | Colby Lewis: Secret Weapon |
| Bullpen (RAR) | 14.3 (24th) | 34.1 (11th) | No fair! You're counting April-July! |
| Defense (UZR) | 22.8 (5th) | 1.0 (16th) | Take that, Canada |
| Overall (UZR + RAR) | 117.3 | 268.4 | LOL IT DOESN'T MATTER |
Questions to Answer:
Yay or Nay: Were you surprised the Rangers held

Josh Donaldson

at 3-22 with no extra base hits in this series?
How did your Return of the McLemore Approved Player to Watch do in this series? (Rougned Odor really caught fire.)
Over/Under: 2.5 times you thought the Rangers were going to lose before they won?
Hey, do you remember the line (IP/H/K/BB/ER) Yovani Gallardo put up in Game 1?