The Rangers are on the road and by the time they get back home on May 28, Josh Hamilton will probably be on the team. Between now and then, the Rangers play three each against the Red Sox, Yankees, and Indians. That trip begins in Boston with the Rangers facing the Red Sox for the first time in 2015.
As far as playing on the road, Texas kind of has a mini-Rockies stigma about them that assumes the team plays poorly on the road while feasting on opponents at home thanks to the arcade-style bandbox they play in in Arlington. That may have been some what true (then again, most baseball teams perform better at home) in the glory years, but it's becoming increasingly unfair.
Exhibit A: Even though the Rangers aren't a very good team in 2015 they actually have a winning record on the road (10-9), their season-long four game winning streak all came on the road, and their only series win of the season came away from home.
Exhibit B: Gosh dang it, The Ballpark plays more neutral these days and it even skews a bit toward being a tough place to hit for right-handers. Stop it, people who believe things about baseball.
I'm sure the right-handed hitting Rangers will be pretty excited to see the Green Monster this week.
As for Boston, they've gone from trying so hard to borrow the Cubs' lovable loser label for all those years to being the Yankees so quickly (seriously, signing Yoan Moncada when you already have 800 third/second base options?) that you can't help but savor the schadenfreude when things go wrong.
The Sox won the dreaded offseason champion while signing Hanley Ramirez and Panda Sandoval but they don't know where to play Ramirez to keep him healthy and Sandoval has two hits all year against left-handed pitchers. Also, they completely forgot that baseball teams require starting pitchers.
Of course, it's too early to count the Red Sox out because they have more money than basically all of the AL and NL Central teams combined and a serious amount of young talent right on the cusp. So, I guess, enjoy Boston in third place while it lasts.
Series Schedule:
Tuesday, May 19 6:10 pm: LHP Wade Miley vs RHP Yovani Gallardo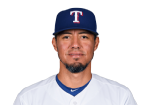 Wednesday, May 20 6:10 pm: RHP Joe Kelly vs RHP
Phil Klein
Thursday, May 21 6:10 pm: RHP Clay Buchholz vs LHP Wandy Rodriguez
Go Rangers!
Boston Red Sox (18-20, 3rd Place in AL East)
Rangers' Record vs. Red Sox: 2-4 in 2014

Boston's Recent Results: 2-2 four-game road series split against the Seattle Mariners
Boston's Home Record: 7-9
Fenway Park Factors (LHB/RHB): HR: 62/105 - Runs: 99/111
SB Nation Red Sox Blog: Over the Monster
| | | | |
| --- | --- | --- | --- |
| Match-up: (as of 05/19) | Rangers | Red Sox | Advantage |
| Batting (RAR) | -17.5 (21st) | -24.4 (26th) | Rangers |
| Base Running (RAR) | 2.3 (9th) | 0.4 (15th) | Rangers |
| Starters (RAR) | 7.8 | 13.7 | Red Sox |
| Bullpen (RAR) | 0.0 (26th) | -3.3 (29th) | Rangers |
| Defense (UZR) | 1.6 (14th) | -10.8 (25th) | Rangers |
| Overall (UZR + RAR) | -5.8 | -24.4 | Rangers! |
Questions to Answer:
Yay or Nay: Are you for or against the idea of a role-less bullpen?
Who is your Return of the McLemore Approved Player to Watch in this series? (

Elvis Andrus

is going to send one over the monster.)
Over/Under: 1.5 dents

Kyle Blanks

leaves in the Green Monster in this series?
What's your guess for line (IP/H/K/BB/ER) by Phil Klein as he becomes the latest Ranger reliever to try his hand at starting on Wednesday?
Do you still miss

Mike Napoli

?