If you're a baseball fan, you don't want to see the Texas Rangers coming to your town because they are pretty good at baseball away from home so far this season for some reason. After taking two from the Red Sox in Boston this week, the Rangers are 7-3 in their last ten road games (12-10 overall) and have won their only two series (a sweep of the Astros at Minute Maid and the series win at Fenway) this year away from The Ballpark.
Who knows why this is. It could just be statistical noise. It could literally be noise in that the Rangers can't concentrate with the sound of people screaming while riding on the Texas Giant at Six Flags one parking lot away. It can't really be explained.
The Rangers have a winning record this season against only two teams. One of them, the Houston Astros, was expected. Except the Astros lead the AL West by five and a half games and have an American League best 27-15 record. The other team, the aforementioned Red Sox, is unexpected because the re-tooled Red Sox were considered World Series favorites coming into this season and now sport just a 19-22 record and reside in 4th place in the AL East.
For much of this season, the New York Yankees were riding high in first place in that AL East division. They've recently been overtaken by the surprising Tampa Bay Rays (the team the Rangers split a four-game series with sandwiched between the series in Houston and Boston) by a half of a game. After starting the year 21-12, the Yankees have gone 1-7 since May 12.
The Yankees, entering a year where they hadn't reached the postseason in consecutive seasons for the first time since the '93/'94 seasons, were considered an old, injury-prone team who would need some of their high dollar underperformers to live up to their contracts to compete.
So far, they've gotten a renaissance year of sorts from Mark Teixeira (.964 OPS) and actual solid contributions from national pariah Alex Rodriguez (.900 OPS). Brett Gardner (.363 OBP) and Jacoby Ellsbury (.412 OBP) have been getting on base at the top of the order, and the Yankees have also gotten production out of outfielder Chris Young (.835 OPS) perhaps because he is playing his home games at Yankee Stadium.
Speaking of bandboxes, the Rangers leave a right-handed hitters' haven in Boston to go to nirvana for left-handed batters in New York. Prince Fielder could probably reach out and touch the fence in right field with his bat from the batter's box. You know the lefty heavy Rangers' lineup is salivating, but I digress...
Perhaps the real reason for the early success in New York has been the bullpen. The Yankees' 'pen has been the best in the American League and are led by the tandem of Andrew Miller and Dellin Betances. Combined, this season, in 41.1 innings, they've allowed a grand total of two runs while striking out 67. Betances alone hasn't allowed a run all season in 23 innings.
It's pretty much Rivera/Wetteland all over again once you get to the 8th/9th against the Yankees. For the Rangers, if they want to keep winning on the road, they'll need to get their runs early against New York before it gets late.
Series Schedule:
Friday, May 22 6:05 pm: RHP Michael Pineda vs RHP
Colby Lewis
Saturday, May 23 12:05 pm: LHP CC Sabathia vs RHP Nick Martinez
Sunday, May 24 7:05 pm: LHP Chris Capuano vs RHP Yovani Gallardo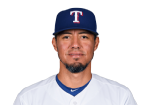 Go Rangers!
New York Yankees (22-19, 2nd Place in AL East)
Rangers' Record vs. New York: First series of 2015, 3-4 in 2014

New York's Recent Results: Swept in a two-game series at the Washington Nationals
New York's Home Record: 9-7
Yankee Stadium Park Factors (LHB/RHB): HR: 137/121 - Runs: 102/99
SB Nation Yankees Blog: Pinstripe Alley
| | | | |
| --- | --- | --- | --- |
| Match-up: (as of 05/22) | Rangers | Yankees | Advantage |
| Batting (RAR) | -18.6 (21st) | -3.2 (14th) | Yankees |
| Base Running (RAR) | 2.2 (9th) | -0.8 (18th) | Rangers |
| Starters (RAR) | 21.9 | 22.4 | Yankees |
| Bullpen (RAR) | 1.3 (23rd) | 21.7 (2nd) | Yankees |
| Defense (UZR) | 1.6 (14th) | -7.2 (24th) | Rangers |
| Overall (UZR + RAR) | 8.4 | 32.9 | Yankees :( |
Questions to Answer:
Yay or Nay: The Rangers win their second straight series by taking at least two of three from the Yankees this weekend?
Who is your Return of the McLemore Approved Player to Watch in this series? (Short Porch City population:

Prince Fielder

all weekend.)
Over/Under: 5.5 times Delino DeShields Jr. reaches base in this series?
What's your guess for line (IP/H/K/BB/ER) by Colby Lewis tonight as he follows up his worst start of the season in a stadium with basically Little League dimensions?
How many Hall of Fame votes will

Mark Teixeira

receive in his final year of eligibility?