Here's what you need to know about why the Dodgers can suck a butt other than them being super rich and probably the best team in baseball:
The home-and-home series begins in Arlington for two games. The Rangers and Dodgers then fly out to LA to play two games on Wednesday and Thursday. The Thursday finale is scheduled for 9:10 p.m. CT. The Rangers immediately have to fly across the dang country to start a series against the White Sox in Chicago the next evening. They probably won't get into Chicago until like 6:00 a.m. and then get to wake up to face Chris Sale.
The Rangers likely requested that the Dodgers to make the final game a getaway afternoon game but they obviously declined because they're jerks.
You're mean, Magic Johnson. LeBron is a better basketball player than you.
Karma got the Dodgers in the end, though. Their 9:00 p.m. flight out of San Diego to Texas was diverted to LA because of mechanical problems. They switched planes and waited two hours to get out of California. They arrived in Texas in the wee hours because they didn't act like gentlemen like Vin Scully would have wanted.
Series Schedule:
Monday, June 15 7:05 pm: RHP Carlos Frias vs RHP Yovani Gallardo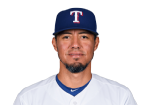 Tuesday, June 16 7:05 pm: LHP Brett Anderson vs RHP
Chi Chi Gonzalez
Wednesday, June 17 9:05 pm: LHP
Clayton Kershaw

vs LHP Wandy Rodriguez
Thursday, June 18 9:05 pm: RHP Zack Greinke vs RHP Colby Lewis
Go Rangers!
Los Angeles Dodgers (37-26, 1st Place in NL West)
Rangers' Record vs.  Dodgers: Haven't played since 2009
Los Angeles' Recent Results: 2-1 series win at the San Diego Padres
Los Angeles' Away/Home Record: Away: 12-16 / Home: 25-10
The Ballpark Park Factors (LHB/RHB): HR: 98/87 - Runs: 108/103
Dodger Stadium Park Factors (LHB/RHB): HR: 128/111 - Runs: 98/89
SB Nation Dodgers Blog: True Blue LA
| | | | |
| --- | --- | --- | --- |
| Match-up: (as of 06/15) | Rangers | Dodgers | Advantage |
| Batting (RAR) | -4.5 (12th) | 43.3 (2nd) | Dodgers |
| Base Running (RAR) | 7.0 (4th) | -6.4 (27th) | Rangers |
| Starters (RAR) | 36.5 | 47.8 | Dodgers |
| Bullpen (RAR) | -6.8 (29th) | 30.6 (1st) | Dodgers |
| Defense (UZR) | -5.8 (21st) | 7.6 (9th) | Dodgers |
| Overall (UZR + RAR) | 26.4 | 122.9 | Dodgers |
Questions to Answer:
Yay or Nay:

Rougned Odor

never plays another game in the minor leagues?
Who is your Return of the McLemore Approved Player to Watch in this series? (Colby is going to take Greinke deep on Thursday.)
Over/Under: 9.5 Ks by Clayton Kershaw against the left-handed heavy Rangers on Wednesday?
What's your guess for line (IP/H/K/BB/ER) by Chi Chi Gonzalez on Tuesday night as he tries to get over the pain of finally having an ERA?
Do you see the Rangers winning at least two of these four games against the Dodgers?