The Rangers won the Chris Sale battle last weekend, but they may have lost the war. After Mitch Moreland hit that two-out, two-run, game-winning single against David Robertson in Chicago on Friday night, the Rangers haven't won another baseball game.
It was noted that the Rangers have had a tough schedule lately both in travel and quality of opposing pitchers. Perhaps, like jet lag, it's the second leg that gets you. The Rangers were able to beat Clayton Kershaw and win a game started by Chris Sale where he allowed just two hits and struck up 14 Rangers. So, they battled during the worst part of the schedule, but since then, they've been in a horrible funk.
Now they fly to Toronto and try to shake off the voodoo Chris Sale did on them. They face a Blue Jays team that feature one of the best offenses in baseball in one of the best places to hit dingers in the game. Toronto has the seventh best record in the American League but are only fourth in their division.
It seems like every time the Blue Jays are good, the rest of the East is better and when they're supposed to be the best team in the East, they falter. For now, though, the Blue Jays are a half a game out of a wild card spot. For a team that hasn't made the postseason since they last won a World Series in 1993, I'd imagine they'd take that as we near July.
As you'll see from the probables below, the problem right now for the Jays is starting pitching. Besides Drew Hutchison and Mark Buehrle (Each having fairly pedestrian years), the Jays' rotation features 40 year old R.A. Dickey and Brewers castoff Marco Estrada. On Saturday, the Jays will reach into their minor league depth and likely give Felix Doubront his first start since last September for the injured Aaron Sanchez.
Series Schedule:
Friday, June 26 6:07 pm: LHP Mark Buehrle vs RHP Nick Martinez
Saturday, June 27 12:07 pm: LHP Felix Doubront vs RHP Yovani Gallardo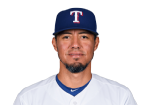 Sunday, June 28 12:07 pm: RHP Drew Hutchison vs RHP 
Chi Chi Gonzalez
Go Rangers!
Toronto Blue Jays (39-35, 4th Place in AL East)
Rangers' Record vs. Blue Jays: First time facing Toronto in 2015
Toronto's Recent Results: 1-2 road series loss to the Tampa Bay Rays
Toronto's Home Record: 23-14
Rogers Centre Park Factors (LHB/RHB): HR: 120/121 - Runs: 99/105
SB Nation Blue Jays Blog: Bluebird Banter
| | | | |
| --- | --- | --- | --- |
| Match-up: (as of 06/26) | Rangers | Blue Jays | Advantage |
| Batting (RAR) | -23.5 (19th) | 45.3 (2nd) | ;_; |
| Base Running (RAR) | 6.2 (5th) | 13.0 (1st) | ;_; |
| Starters (RAR) | 22.7 | 18.0 | :) |
| Bullpen (RAR) | -8.0 (30th) | 12.4 (15th) | ;_; |
| Defense (UZR) | -2.5 (17th) | 7.3 (10th) | ;_; |
| Overall (UZR + RAR) | -5.1 | 96.0 | ;_; |
Questions to Answer:
Yay or Nay: The Expos should be revived in Montreal?
Who is your Return of the McLemore Approved Player to Watch in this series? (

Adrian Beltre

is going to show

Josh Donaldson

a thing or two.)
Over/Under: 1.5 stolen bases by

Shin-Soo Choo

in 2015?
What's your guess for line (IP/H/K/BB/ER) by Chi Chi Gonzalez on Sunday as he tries to bounce back from the worst start of his career?
Do the Rangers snap their losing streak at some point during this series?