When last we left the Texas Rangers they were finishing up a 1-7 homestand against teams that included the San Diego Padres. When last we left the Houston Astros they were in first place in the AL West despite the Rangers sweeping them at Minute Maid Park way back in May.
While the Astros maintained their lead in the West for much of the first half, they finished up before the All-Star break by going 2-8 to fall a game behind the Angels. So, the state of Texas went a combined 3-15 before taking the rest of the week off. Ouch.
When last we left Martin Perez he was showing signs of a breakout 2014 season where it looked like he would ascend to a rotation mainstay for the next 10 years, as he hurled back-to-back shutouts in April. Of course, nothing escaped the wrath of 2014 as Perez succumbed to injury in May and was forced to endure Tommy John surgery and miss the next 14 months.
Tonight, Marteen makes his return in the series opener of the second half against the Astros. Perez is a year older, a year wiser, and presumably a year hungrier to to finish what he started last season.
Series Schedule:
Friday, July 17 7:10 pm: RHP Collin McHugh vs LHP Martin Perez
Saturday, July 18 6:10 pm: RHP 
Scott Feldman

vs RHP Colby Lewis
Sunday, July 19 11:10 pm: RHP Dallas Keuchel vs RHP Yovani Gallardo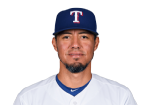 Go Rangers!
Houston Astros (49-42, 2nd Place in AL West)
Rangers' Record vs. Astros: 4-2 (3-0 at Minute Maid)
Houston's Recent Results: Swept 0-3 at the Tampa Bay Rays
Houston's Home Record: 28-16
Minute Maid Park Factors (LHB/RHB): HR: 128/118 - Runs:102/98
SB Nation Astros Blog: The Crawfish Boxes
| | | | |
| --- | --- | --- | --- |
| Match-up: (as of 07/17) | Rangers | Astros | Advantage |
| Batting (RAR) | -28.9 (20th) | 5.3 (8th) | ;_; |
| Base Running (RAR) | 2.7 (12th) | 10.8 (1st) | ;_; |
| Starters (RAR) | 29.9 | 45.9 | ;_; |
| Bullpen (RAR) | -4.0 (28th) | 19.3 (11th) | ;_; |
| Defense (UZR) | 6.8 (12th) | -8.1 (22nd) | :) |
| Overall (UZR + RAR) | 6.5 | 73.2 | ;_; |
Questions to Answer:
Yay or Nay: The Rangers finish the 2015 season with a better record than the Astros?
Who is your Return of the McLemore Approved Player to Watch in this series? (Looking forward to Adrian Beltre's second half tear beginning this weekend.)
Over/Under: $55.5 million the Rangers have to eat when they dump Shin-Soo Choo on some team?
What's your guess for line (IP/H/K/BB/ER) by Martin Perez in his 2015 debut tonight after missing the last 14 months?
Do the Rangers start the second half with a series win over Houston?