The Texas Rangers have played 10 games so far this season. For example, the Indians have played six. The Yankees, Nationals, and Marlins have each played seven. Besides the Rangers and A's, every team has had a day off to begin the first 16th of season. The A's are off today. The Rangers begin a four-game series against the Baltimore Orioles today after their first West Coast road trip of the season.
On the heels of the always grueling month-long slog that is Spring Training, the Rangers will be baseball's last team to catch a breather four games later than anyone else. I suppose if you're going to play a ton of games, it's better to do it while fresh, but one downside besides getting your aches and pains in early is the Rangers are playing a ton of games before getting Yu Darvish back.
I suppose the upside is the Rangers will have more days off later during the long summer grind. I don't know if it's an advantage or disadvantage but it's certainly a quirk in the schedule.
Series Schedule:
Thursday, April 14 7:05 pm: RHP Chris Tillman vs LHP Cole Hamels
Friday, April 15 7:05 pm: RHP Vance Worley vs LHP Martin Perez
Saturday, April 16 7:05 pm: RHP Yovani Gallardo vs RHP
Colby Lewis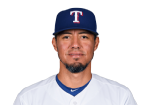 Sunday, April 17 2:05 pm: RHP
Mike Wright

vs LHP Derek Holland



Baltimore Strengths:
Well, the Orioles currently lead the American League in hitting dingers with 14 through their first eight games. They're kind of built on the home run with the likes of Chris Davis and Mark Trumbo lumbering in the lineup. They also have Manny Machado who will probably join Carlos Correa and Bryce Harper beginning this season in a battle royale for the title of best non-Trout player over the next half decade.
I am sold on the back end of the Orioles' bullpen with Darren O'Day and Zach Britton being real good. I miss O'Day terribly.
Baltimore Weaknesses:
I'm not sold on Baltimore's rotation. Tillman is obviously solid but he's their No. 1 when he probably profiles more as a good No. 3 (not that there's anything wrong with that). We know Gallardo is pretty good after last season but he's prone to be gassed around the 5th inning each start which can really wear on the bullpen. Worley is a journeyman supreme. Mike Wright seems like he has some upside but he's firmly in the replaceable range right now. Man, who knows what Ubaldo Jimenez is from start to start.
I don't know. I don't know that this is a rotation that can carry Baltimore through 162 games in the AL East. Really, Baltimore has to be hoping Kevin Gausman and Dylan Bundy can come and claim spots in the rotation for the next decade.
Go Rangers!
Baltimore Orioles (7-1, 1st Place in AL East)
Rangers' 2015 Record vs. Baltimore: 6-1 (3-0 at The Ballpark)

Baltimore's Recent Results: 2-1 series win against the Boston Red Sox at Fenway
Baltimore's 2016 Road Record: 2-1
The Ballpark Park Factors (LHB/RHB): HR: 101/98 - Runs: 111/107
SB Nation Orioles Blog: Camden Chat
| | | | |
| --- | --- | --- | --- |
| Match-up: (as of 04/14) | Rangers | Orioles | Advantage |
| Batting (RAR) | -8.3 (24th) | 14.4 (1st) | D: |
| Base Running (RAR) | -0.5 (21st) | 0.1 (17th) | ¯\_(ツ)_/¯ |
| Starters (RAR) | 0.2 | 3.3 | :( |
| Bullpen (RAR) | -3.5 (27th) | 5.4 (4th) | ;_; |
| Defense (UZR) | 0.0 (1st) | 0.0 (30th) | ¯\_(ツ)_/¯ |
| Overall (UZR + RAR) | -12.1 | 23.2 | ;_; ;_; ;_; |
Questions to Answer:
Yay or Nay: Baltimore keeps winning and takes the AL East proving Buck Showalter a genius everywhere but Texas?
Who is your Return of the McLemore Approved Player to Watch in this series? (Maybe this is the series

Ian Desmond

breaks out?)
Over/Under: 4.5 hits by

Nomar Mazara

in this series?
What's your guess for line (IP/H/K/BB/ER) by Colby Lewis on Saturday night fresh off a gem in Seattle?
Who will win more AL MVPs in the next ten years: Carlos Correa or Manny Machado?