610 cursed days, as any day without Minor League baseball can be considered, had passed between the last game played by a Rangers MiLB affiliate and 4 May 2021. As we see the next generation of Rangers emerge from their long slumber, I'll be doing these updates on one player at every level on a weekly basis. Each week's update will alternate between the farm's pitchers and hitters. This first week we'll be looking at one pitcher at each of the four Rangers' affiliates. In ascending order from A ball to AAA, here's four guys to keep an eye on this year.
TK Roby: Down East Wood Ducks (A)
Ranked 144th in MLB Pipeline's Top 200 draft list and as the 155th prospect in Baseball America's Top 500 going into the 2021 draft, the Rangers' took Roby with the 86th overall pick in the 3rd round. TK Roby, short for Tekoah, uses a three-pitch mix that features a 4-seam fastball, a changeup, and a 12-6 curveball.
At present, Roby looks like a two-pitch pitcher. He primarily utilizes his fastball and curveball to get outs. The changeup will need work, but Keith Law remarked in his ranking of the 2021 Rangers' farm that the changeup has the potential to be an average-to-plus offering. The pitch with the potential to develop into a strong second offering off the fastball is his solid curveball. From Roby's first start, the breaking ball is a devastating pitch that will power him through the lower levels of MiLB.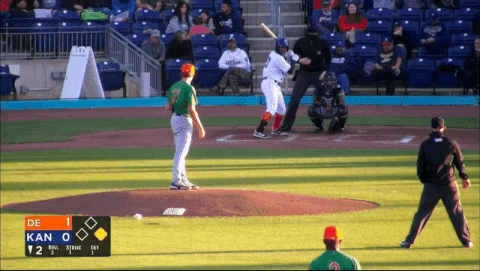 Roby's fastball velocity typically measures in the 92 - 94 mph range, with him topping out at 96 mph. The pitch features significant arm-side run, with it moving in towards right-handed batters and away from left-handed batters. I desperately want to get some spin rate readings on Roby, as his heater moves tremendously. Here's Roby painting the inside corner with a solid fastball: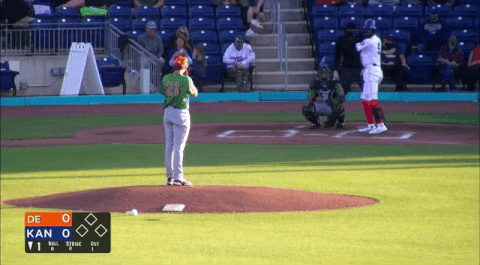 The delivery features quite a bit of violence on the arm, as his elbow whips forward and then lashes backward. But the lower-body mechanics are fluid, repeatable, and keep him from falling too far off the mound at the delivery's conclusion. While the arm action is a bit scary, if that's how he comfortably throws the ball I wouldn't suggest changing it.
The delivery gives him solid command of all three of his pitches. In his first start, Roby threw 20 strikes out of 31 pitches over 2.1 innings, good for a 64.5% strike percentage. While the pick was criticized as a reach at the time, I'm more than happy with the tools Roby brings to the mound. Lastly, the arm-side run on Roby's fastball is going to break quite a few bats as he progresses through the lower levels. As we saw in his first start, it's a nasty offering: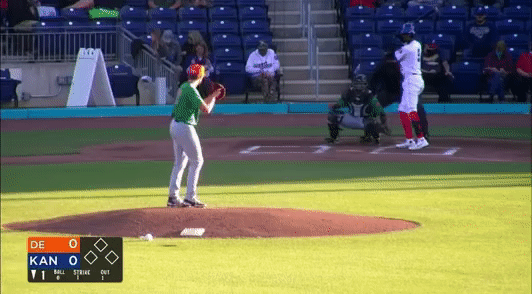 Also of note at A ball, Dane Acker, he of hidden gems notoriety, was consistently working at 95 - 96 mph through his first start in professional baseball. That's a major jump forward from the 91 - 92 mph Acker operated at while pitching for the University of Oklahoma in 2020. After that start and at that velocity, Acker will not be left off the Rangers' Top 30 prospect list again. Jason Collette, who works for Rotowire and Fangraphs had the update on Acker's velocity:
Chase Solesky 92-94 in the 1st while Dane Acker was 95-96.

— Jason Collette (@jasoncollette) May 6, 2021
Took it thru at least first 3 as I paid attention to pitch by pitch reading.

— Jason Collette (@jasoncollette) May 7, 2021
Avery Weems: Hickory Crawdads (A+)
I highly recommend subscribing to the MiLB.TV program, the $39.99 price for an entire year is an absolute steal, pun slightly intended. Unfortunately, neither Greensboro nor Hickory partner with MiLB.TV, so no gifs for Weems' first start in the Texas organization.
Weems was acquired from the Chicago White Sox in this past winter's Lance Lynn trade. Having taken significant steps forward since being drafted, Weems has gone from being a crafty lefty to throwing a dependable 95 mph fastball. He pairs that heater with a plus curveball and a still-developing changeup. With two plus pitches, Weems has the potential to move quickly through the system if he were transitioned into a relief role.
In the meantime, the Rangers appear intent on developing him as a starter. In his first outing, Weems went 2 innings, gave up 1 hit, 0 Runs, 1 BB, and recorded 3 Ks. He had a bit of a rocky start, with a Lolo Sanchez line-drive single to open the game, followed by a five-pitch walk. He came back strong with two straight five-pitch Ks, followed by a two-pitch groundout to end the first frame. The final frame of his Crawdads debut was much smoother, with just seven pitches needed to record a groundout, strikeout, and groundout to cap a 1-2-3 inning.
Given the value of developing a starting pitching prospect over yet another reliever, I doubt the Rangers will move Weems to the bullpen in 2021. We are likely to see him spend the entire year at A+ ball, where he will be tasked with fine-tuning his command and developing his changeup. If either of those developments fail to materialize, Weems is likely to see a 2022 transition to the bullpen, where he could easily make his MLB debut in the same year. When he pitches somewhere that offers MiLB.TV access, I'll be sure to get some gifs of his delivery and pitches for y'all.
Tyler Phillips: Frisco RoughRiders (AA)
While only having recently developed an 80-grade moustache, Phillips has long been known to most who have followed the Ranger farm for the past several years. He arrived on the scene in 2018 with a spectacular year at what was then the low-A ball affiliate in Hickory. With a 1.8 BB/9 with 131.0 IP across A+ and AA in 2019, Phillips looked poised to cement his case as a true prospect with a follow-up campaign in 2020. Losing that opportunity didn't appear to hamper Phillips' development too much, as his curveball came back with new life in 2021.
The development of that third pitch will determine whether Phillips becomes a legitimate BORP (bottom-of-the-rotation-pitcher), or is a Nick Martínez up-and-down depth starter. Here the curveball, as it dives following a 12-6 path into the lower-third of the strike zone to surprise Oakland's #5 rated prospect, Logan Davidson, at the beginning of a plate appearance: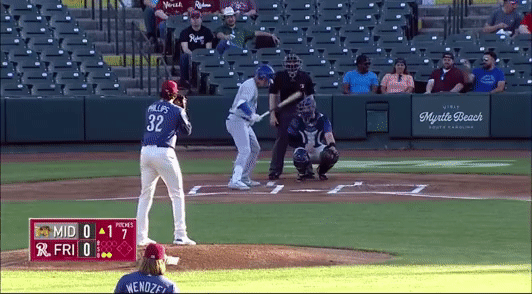 Phillips is showing newfound confidence in that curveball, especially throwing it to start off a dangerous hitter. While I had previously thought his breaker's ceiling was as an average third offering, I'm comfortable upgrading that pitch to above-average (55 FV) territory. The Rangers obviously have Phillips working on the curveball, as he also used it to strikeout the A's #3 rated prospect Nick Allen: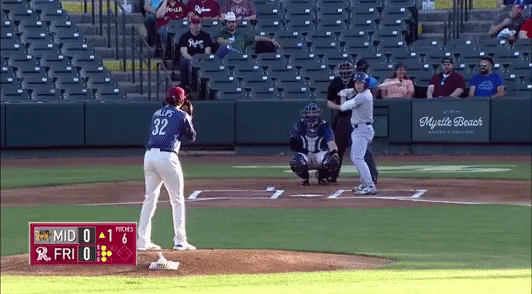 Phillips also K'd the Rockhounds' leadoff hitter with the curveball. He came into that start knowing exactly what he wanted to do: show a new and improved curveball. To emphasize the point, there was one sequence in the second inning where Phillips threw 7 curveballs out of 8 pitches. Meanwhile, his fastball remains an average — at best — offering.
It comes in faster than its 92 - 94 mph would indicate, due to Phillips' arm action. But it's a straight fastball without much spin to it. He'll top out at 96 mph, and will induce plenty of ground balls with the offering. The fastball won't be a strikeout pitch, but he can use his curveball and changeup to get those tough outs. The real weapon in Phillips' arsenal is his changeup, which prior to the curveball's development been his only above-average pitch.
In his first outing of 2021, Phillips went 4 IP, surrendered 2 hits, gave up 0 runs, 1 BB, and 5 Ks. He also threw 38 strikes to just 19 balls, good for a 66.67% strike-to-ball percentage. Phillips' fluid delivery accommodates potentially elite command, with Fangraphs' Eric Longenghagen having thrown a 70 FV on Phillips' command prior to the 2020 season. The easily repeatable delivery will allow Phillips to eat innings at the bottom of the rotation, as he has did in both 2018 and 2019 with 133 IP and 131 IP, respectively.
Phillips' curveball was a solid third offering against the Midland Rockhounds, and if it remains in that category, we could likely see Phillips in Round Rock soon. With Kohei Arihara slightly beating out Jordan Lyles for the statistically worst starting pitcher in MLB, it's likely an arm from the farm is called up soon. Could that arm be Phillips? Keep an eye on the curveball's development and you'll soon have your answer.
Luis Ortiz: Round Rock Express (AAA)
I still like the trade with the Brewers to acquire Jonathan Lucroy, and would undoubtedly do it again. Funnily enough, Lucroy's putting up his best OPS+ since the 2016 campaign in a small sample for the Washington Nationals in 2021. After being a part of the Lucroy trade, fate has brought Luis Ortiz back into the organization that drafted him 30th overall in the 2014 MLB Amateur Draft.
Ortiz is now a reliever reliant on a three-pitch mix. While that's rare for a bullpen arm, as a former top 100 starting pitching prospect, it's no surprise to see Ortiz operate off his fastball, slider, and changeup combo. He'll mix in a curveball every so often, but it's been largely eliminated from his arsenal. He does a good job of elevating his fastball off of his breaking pitches, which he prefers to keep in the bottom-half of the zone. In the following gif, he uses an elevated fastball to strikeout the Dodgers' #21 prospect at MLB Pipeline, DJ Peters: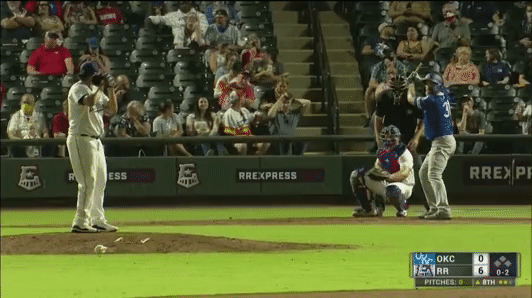 The slider will be his primary out pitch, as it features nasty bite. The changeup gets thrown infrequently, and looks to have below-average movement. Ortiz doesn't appear to have a particularly great feel for throwing the changeup either. Conversely, he can paint the strike zone's edges with his slider, as you'll see here: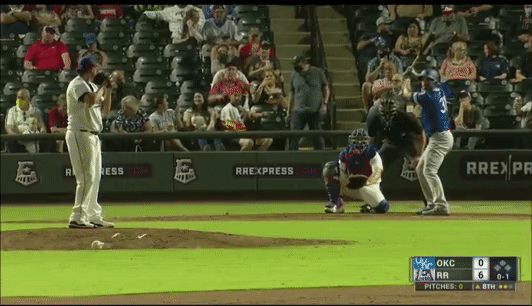 Ortiz's trail leg takes quite a while to follow through his delivery, with it hitting the ground well after the ball has arrived at home. Combined with his athleticism, or lack thereof, he won't ever field his position well. Though that is of little concern to a reliever who will only have to face three batters. Ortiz will also use his slider, with it's plus breaking action, to get guy's to chase out of the zone: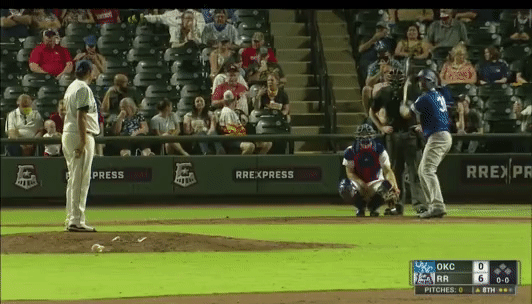 Ortiz likes to work batters down-and-in or down-and-away with the slider, then come upstairs with his fastball. This combination has powered many successful starters turned relievers, and I'd go so far as to say it will bring Luis Ortiz to Arlington before season's end. He's definitely a guy to keep an eye on out of the Round Rock bullpen.
Next week, we'll be taking a look at some of the prospects who have performed well from the batter's box. If you have any particular preferences or suggestions for who deserves a look, feel free to throw their name in the comments.
I'll be ending these articles with a moment that encapsulates some of the more entertaining eccentricities of Minor League Baseball, which have graciously been restored after a twenty-month hiatus. This week's MiLB idiosyncrasy comes courtesy of the scoreboard operator for the Kannapolis Cannon Ballers:
Kannapolis scoreboard graphic has the runners advancing clockwise (runners are actually on 2nd and 3rd) and the numbers under the b/s/o are actually o/b/s. Regardless, Down East leads 8-1 now, threatening a 6-game sweep on the road. pic.twitter.com/PIyU6FjtSi

— Scott Lucas (@scottrlucas) May 9, 2021