In carrying over the series from last week, we'll be transitioning away from the pitchers to look at some of the rising hitters on the Rangers' farm. As the next generation of Rangers emerges, many in their first exposure to professional baseball, this series will serve as a means to keep y'all abreast of the developmental progress being made from North Carolina to Texas. In this first installment of the hitter evaluations, we'll look at one player from each of the four affiliates. In ascending order from A ball to AAA, here are some compelling bats.
Keyber Rodriguez: Down East Wood Ducks (A)
A coin flip determined which of Randy Florentino and Keyber Rodriguez made the hidden gems series. Thus far, Rodriugez has played well enough to make me regret his exclusion. It's not a stretch to say Rodriguez is the most underrated prospect in the Rangers system.
And while his loudest tool is his 70-grade speed, which puts pressure on the defense and equips him to steal 20+ bases a year, the hit tool stands out as a critically undervalued component of his game. The best part of his hit tool is his awareness of the strike zone. At just 20 years-old Rodriguez commands the zone well. Along with his ability to fight off pitches on the fringes of the strike zone, his advanced approach leads to plenty of walks. In the following video, you can see Rodriguez battle from down 1-2 to work a bases loaded walk in a nine-pitch plate appearance:
Rodriguez does not strike out much (18.75% K rate in 432 career plate appearances) and his walk rate is similarly respectable (9.7% career BB rate). The approach will continue to play for him at the lower levels of Minor League Baseball, and the eventual jump to AA in 2022 will be much more enlightening to whether his pitch recognition skills remain against much more advanced stuff from opposing pitchers.
At 5' 10' and 178 lbs, there's not much physical projection left in his frame, and any further weight gain will likely reduce his speed's effectiveness. Rodriguez gave up switch hitting coming into the 2021 season, which was a welcome decision given his left-handed swing lacked much of the power generation we can see in his right-handed swing.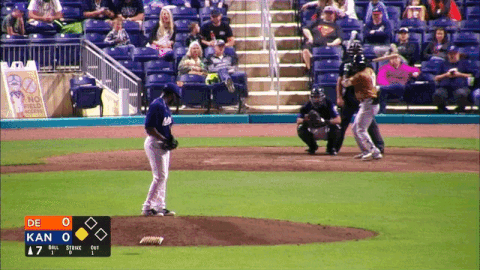 From the right side, Rodriguez primes his load with a small leg kick, brings his foot down firmly, and rotates well to get to the high-and-in fastball. With his speed and defensive skills, Rodriguez's profile resembles the ideal utility infielder. That role is likely his best possible outcome at this point, which explains why he's been overlooked in the Rangers' system.
He has a plus arm, along with the natural instincts and fluid movement to play at any of third base, second base, or shortstop. He won't be a high ceiling guy, but his tools put him squarely on the radar for anyone interested in the Rangers MiLB system.
Bonus! Evan Carter: Down East Wood Ducks (A)
Typically, these articles will be limited to one player per team, but only a fool would pass up the opportunity to evaluate the guy who is going to be the #2 prospect on the Rangers farm, and a consensus top 100 prospect in all of baseball by the middle of the 2021 season.
Evan Carter is the second-youngest position player across both the A and A+ leagues. He's just thirteen days older than Oakland Athletics prospect Robert Puason, who is the youngest position player in A ball. Unlike Puason, Carter has plus pitch recognition skills, a good command of the strike zone, and a nearly flawless swing. As an 18 year-old, Carter can already pass up pitches that most other prospects would chase after, like this curveball in a 1-2 count: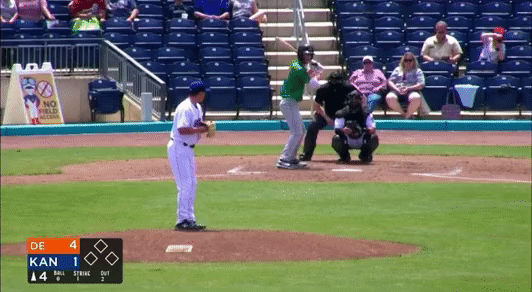 In that same at-bat, Carter goes on to use his plus speed to turn a lazy single into a double. As you can see, Carter's long strides power him safely into second for a double: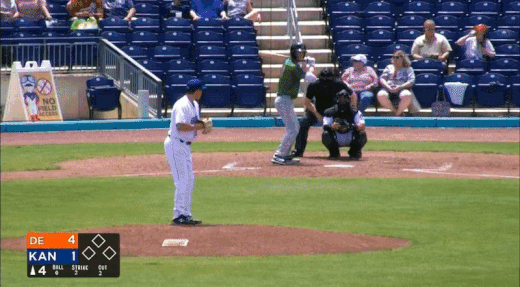 His home-to-first base times translate into 60-65 grade speed, but Carter's not a one-trick pony. With excellent barrel control, he sprays the ball across all fields. He takes a small step forward, plants his front side, and begins to rotate his weight forward tremendously well. The bat's quick to the ball, with no hand hitch or arm bar to speak of. The bat stays in the hitting zone for a long time, which is an excellent attribute. I'm a huge fan of the swing, and believe it will continue to generate a ton of hard contact.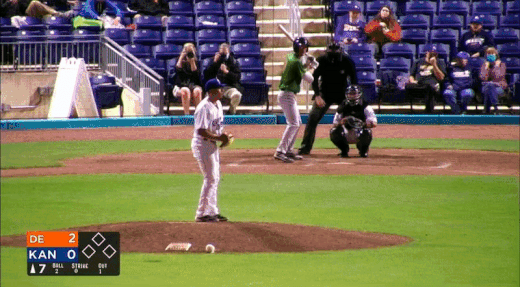 While power is already a component of his game, as the 6' 4" 190 lb. center fielder's frame continues to fill out, he will add further to his respectable in-game power. Carter is striking out a bit much right now (33.3% K rate), but he's also walking 23% of the time. I'd anticipate both of those numbers coming down as he settles in against professional pitching. I'm entirely comfortable labeling Carter as a potential five-tool guy, as his defense is just as advanced as his offense.
The Rangers have a budding star on their farm. It's long past time to reject the notion that the Rangers wasted the 50th overall pick in the 2020 draft, just because Evan Carter was not on the Baseball America top 500 draft list. As Baseball Prospectus Senior Prospect Writer Jarrett Seidler summarized, Evan Carter's exceeded every evaluative expectation, and is a virtual lock for this summer's top 100 prospects lists.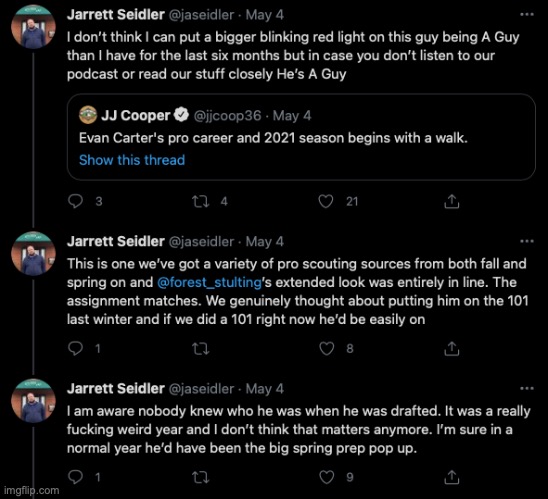 Chris Seise: Hickory Crawdads (A+)
The Crawdads are yet to play a game at a site featuring MiLB.TV access, so no gifs or videos from Chris Seise yet. I'd still highly recommend MiLB.TV's $39.99/year subscription package, as you can see every AA and AAA game, with about half of the A and A+ teams included.
As an oft-injured shortstop, Seise had played just 72 games in professional baseball from his selection as the 29th overall pick in 2017, to the beginning of the 2021 season. This is likely to be one of my first reviews that could be construed as negative, as my view on Seise's pitch recognition skills and his approach is one without much praise. Breaking and off-speed stuff leaves him swinging out of his shoes too often, and Seise has not shown the on-base skills to offset the K's, with just a 5.5% career BB rate. He also overwhelmingly pulls the ball to left field.
On the positive side, Seise's swing is a good one. He uses a leg kick to prime his load, rotates his core nicely, and brings the bat through the zone with solid bat speed. The swing has thus far led Seise to generate slightly above-average line drive and fly ball rates in his MiLB career, so that's another sign working in his favor.
I remain worried that as Seise sees better breaking balls and off-speed pitches that the flaws in his approach will be exposed. However, Seise is currently posting a .740 OPS in a league where the average OPS is .687, so those flaws have not yet caused him to fail.
Seise's defensive skills are average to plus, depending on whether we are evaluating his arm, footwork, or range. He has the defensive tools to stick at shortstop, but could easily move to third base, second base, or even the outfield. Ideally, the Rangers would seek to add some defensive versatility to Seise's game, as that will increase his chances of reaching MLB. The true test for Seise will follow his next promotion to AA Frisco, where he will face real curveballs, nasty sliders, and dancing changeups. If the pitch recognition is not exposed there, he will have a major league career. I just don't have a ton of faith that his pitch recognition skills allow him to excel at AA.
Davis Wendzel: Frisco RoughRiders (AA)
To level with y'all, I did not think Wendzel had a solid prospect profile until recently — maybe that bodes well for Chris Seise, although Wendzel's issues related to his swing mechanics, rather than his pitch recognition skills. Prior to 2021, Wendzel's swing failed to inspire much. His hips opened too early, his elbow leaked out from his body, and his hands drifted too far out while he brought his bat forward.
In a coup for the Rangers' development staff, Wendzel has eliminated many of the flaws that were in his swing when he was drafted. He's killing the ball at Frisco in his first exposure to full-season ball. This success can be attributed to him delaying his swing's timing to allow him to stay back on the ball. Previously, Wendzel had started his swing early, in what I would assume was an attempt to hunt fastballs. This left him typically bringing the bat through the zone too early, and left the bat relatively far away from his body at the point of contact. Simply put, he was out-in-front of most pitches, reducing his ability to make effective contact and all but ensuring he could only pull hittable pitches.
At present, Wendzel's changes to delay the beginning of his swing appear to have worked, as his bat now stays in the zone longer. Wendzel often whips the barrel through the zone to meet the ball, which has so far led to similar results to this home run against the Midland Rockhounds.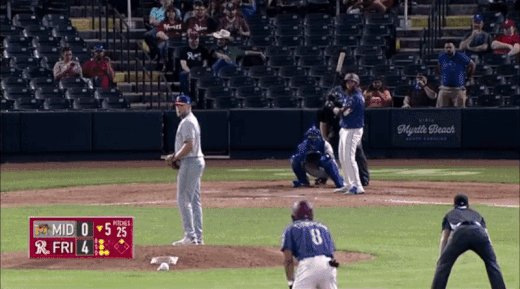 Defensively, Wendzel's movements are smooth, his reactions are quick, and his hands provide a quality glove around the diamond. At 6' 1" and 206 lbs, Wendzel has a bit of bad weight on him, and his frame is more stocky than athletic. Though, his stockiness has not hampered his defensive skills. The only factor that will move Wendzel off shortstop is his below-average speed and lackluster lateral range.
He doesn't really have that quick-twitch ability to go get grounders out of the 5.5 hole that you would want to see from a shortstop, but Wendzel does have the reactions to play an above-average third base. He could also likely play anywhere on the corners. His arm strength is the best part of his defensive profile, as Wendzel is able to throw lasers all over the diamond. Here, after bobbling the ball, he still capably sets his feet and whips a rocket over the first to get the runner.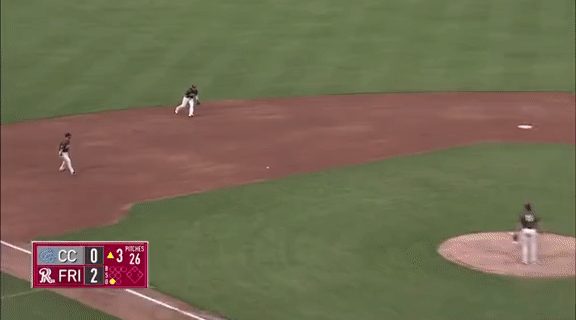 During our offseason prospect rankings, I did not have Wendzel in my top-10 Rangers prospects. After seeing him implement a few swing tweaks and show great defensive versatility, I'm ready to move him into the top-10 prospects in the Texas system. Wendzel's current 50th percentile outcome is as a serviceable bench bat, with a 75th percentile outcome akin to former Angels utility infielder Alberto Callapso. Wendzel could become an above-average regular with continued work to refine his swing — he's got a bright future ahead of him.
Curtis Terry: Round Rock Express (AAA)
Currently 5th across all of AAA in slugging percentage, and 10th by OPS, Curtis Terry is destroying the ball. Though he's also posting an unsustainable .467 BABIP. At 6' 2" and ~260 lbs, Terry carries quite a bit of weight, with a massive concentration of muscle in his lower body. Whether you want to go with the nickname Thighs or Big Rig, both applicably describe Terry's frame.
He uses that frame to create 70-grade raw power, and generates plus (60 FV) in-game power. His short stroke allows him to generate solid bat speed, leading frequently to loud contact. Terry's a true 1B/DH, with enough defensive skill and sneaky athleticism to be an average defender at 1B. Even with the average defense, he will have to mash his way to MLB.
With the progress he's made in generating more lift at every level of Minor League Baseball he's played at, he has a good chance to continue producing. Here, you can see how much Terry has embraced the launch angle revolution, as his quick swing leads to what appears to be a ridiculously high launch angle home run.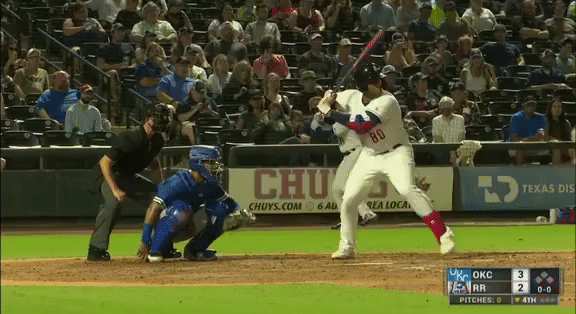 Terry punishes the baseball, but his plus approach is just as impressive as his raw power. The approach's best skill is Terry's pitch recognition, which keeps him ready to mash fastballs, but also allows him to adjust and stay back on off-speed pitches. Here you can see Terry recognize the hanging, flat slider out of former MLB pitcher Mike Kickham's hand. Terry adjusts to the pitch and sends it 400+ feet for a home run.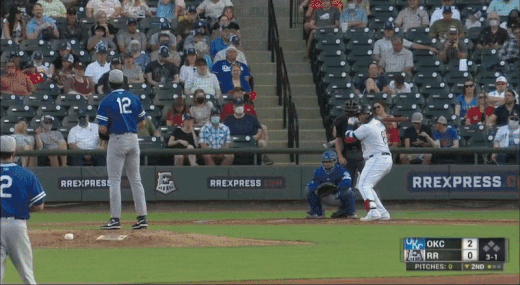 Given the pitch recognition and barrel control skills, Terry deserves a 50 FV grade on his hit tool. Presently, Terry is blocked by Nate Lowe at 1B and Willie Calhoun at DH. Though, if he maintains an OPS greater than 1.000, I'm sure the Rangers could figure out a way to fit his bat into the lineup. Terry's improved at every level he's played at, so it's far from prudent to bet against his success. Quite a bit stands against him, with his body far from representing the classic image of the MLB player, but Curtis Terry's definitely one to keep an eye on in Round Rock.
Here's this week's Minor League Oddity for you:
DEWDs have 4 hits, 4 walks, and 6 HBPs today.

That's their hitters, not the pitchers.

— Adam J. Morris (@lonestarball) May 16, 2021
The Down East Wood Ducks won 4-2 last Saturday, thanks to 6 HBPs and 4 BBs, with just 4 hits. If you don't believe me or AJM, feel free to check out the game's box score. We'll be back next week with an update on the pitchers. If you have any suggestions, or would like to see an evaluation for a specific player, stick their name in the comments and I'll get around to them.
Finally, in a bit of personal news, I got hired to scout amateur baseball this summer for Perfect Game. In that role, I'll be traveling to a variety of showcases and tournaments across Texas to identify, evaluate, and write-up 14 - 18 year olds playing on the travel ball and showcase circuit. Y'all deserve a ton of credit, as I wouldn't have been able to refine my knowledge of the game to the point where I made for an attractive hire without the lessons many past and present LSB posters have been able to instill. Thanks for everything y'all have done! I will also be able to fortunately continue these write-ups for LSB, and plan on keeping this weekly pace moving forward.