Following up on the first article in our bi-weekly series, we have four pitchers from the Rangers' farm to check in on. Now entering the fourth week of the season, the minor leaguers have settled back in to their clubhouses for the first time in a year. As they continue to progress, we will continue to evaluate one player at each affiliate every week. Here are this week's four pitchers:
Nic Laio: Down East Wood Ducks (A)
A complete unknown to all but the most obsessed observers of the farm, Laio was drafted in the 20th round out of Western Michigan in 2018. He did not appear in a professional game in his draft year due to a collapsed lung. The layoff following his surgery and recovery period left him needing to do significant rehabilitation just to reach his previous status quo.
After building his strength back up, Laio transitioned into a multi-inning relief role for short season Spokane. He dazzled with a 11.4 K/9 and an xFIP a full run lower than his 3.74 ERA. Thus far in his first exposure to full-season professional baseball, Laio's improved to the tune of a 15.9 K/9 with Down East.
Utilizing a fastball with nice rising action, Laio likes to work opposing hitters backwards. This means he will utilize a slider as his primary breaking pitch, mixing in what appears to be a changeup early in counts. Once Laio reaches a favorable position, he drops his best pitch, which is the fastball, in to get outs. At 6' 5" and 205 lbs, Laio's frame could add another 15 - 20 lbs of good weight before he arrives in Arlington. Further weight gain in his trunk could spur additional velocity gains. Laio graduated high school at ~180 lbs and threw in the mid 80s, so we've seen weight gain equate to velocity gains in his recent past. Here's Laio deploying the rising fastball for a strike,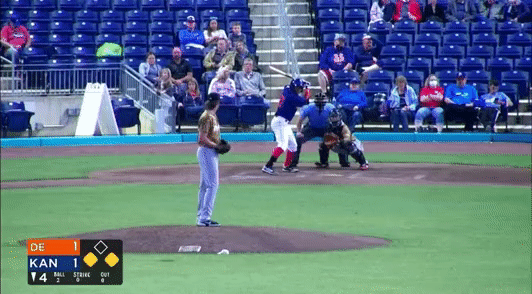 From a bit of a hybridized 3⁄4 sidearm arm slot, Laio has the confidence to throw his secondary pitches in any count. He does a solid job of controlling them, but lacks the command necessary to project him as a starter. The role here looks to be as a multi-inning reliever that can go through an opposing lineup once. In this clip, Laio drops the slider in to even the count at 2-2.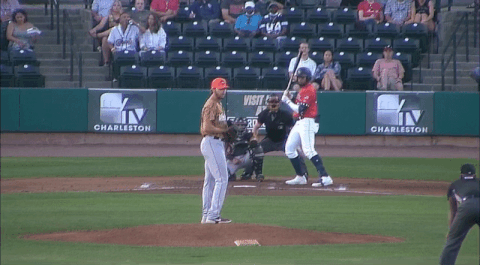 Laio is the unexpected breakout of the Down East bullpen, but we should expect a 23 year-old to pitch well at low-A ball. If he keeps his current performance up, he will all but certainly be promoted to Hickory soon.
Ronny Henriquez: Hickory Crawdads (A+)
Listed at a questionable 5' 10" and just 155 lbs, Ronny Henriquez is an unexpectedly powerful right-handed pitcher. While his stature is small, your excitement for his potential should not be. Signed for the international free agent minimum of $10,000 in the 2017 J-2 class, the fact that Henriquez has become a legitimate prospect is a huge win for the organization's scouting and development system.
His walk rate has been high in a small 2021 sample, but coming into this season Henriquez had maintained a career 5-to-1 K:BB ratio. His arm speed is lightning fast and Henriquez does a fine job of commanding that speed and turning it into velocity. A fastball, changeup, and developing slider round out his arsenal. The fastball ranges in the 94 - 98mph range, with late life that makes it appear even faster.
Interestingly, Fangraphs' has his changeup categorized as a splitter, but both Mark Parker, the Hickory Crawdads beat writer and the Hickory media guide have it logged as a true changeup. The changeup drops like an anchor just before reaching the plate and comes out of the same arm slot as his fastball. The changeup is a solid secondary offering and establishes a high-leverage relief role as a contingency plan if Henriquez's body fails to hold up to the rigors of starting.
His slider has taken a positive leap forward over the last year, now showing true breaking action that distinguishes it from his other pitches. While questions regarding his frame's ability to meet a starting pitcher's workload will always dog Henriquez, it's the further development of his slider that will determine whether or not he can start in MLB. Eric Longenhagen, the lead prospect evaluator at Fangraphs, has even gone so far to say that if Henriquez's slider takes another stride forward, he would be on the Fangraphs' top 100 prospects.
There is not any video of Hickory available yet, as their league does not make use of MiLB.tv as much as others. However, the reports from Mark Parker indicate Henriquez is emphasizing the slider's development, working it into counts frequently. In his last start, 5 of the 6 swinging strikes Henriquez generated in the second inning came off the slider. If that trend continues, we will see significant buzz around Henriquez come midseason and offseason prospect lists. To satiate any desire for some video, here's Henriquez throwing at low-A ball in 2019.
Cole Winn: Frisco RoughRiders (AA)
If you live near any of the ballparks Frisco will play at in 2021, I highly recommend going to watch the Rangers best pitching prospect work. Having had that pleasure myself, I am glad to report he looks the part of his MORP projection. As the 15th overall pick of the 2018 draft, Winn was considered the most complete prep pitcher in that draft class.
The command is still a work in progress, which challenges that draft evaluation a bit. Though the control of each of his four pitches remains solid. In my look, Winn went 6 IP, 79 pitches, 56 strikes (70.8% strikes), and got 13 swinging strikes. Winn works each of his four pitches into any count, with the confidence to throw them throughout an at bat. Here, he drops in the slider to record the K.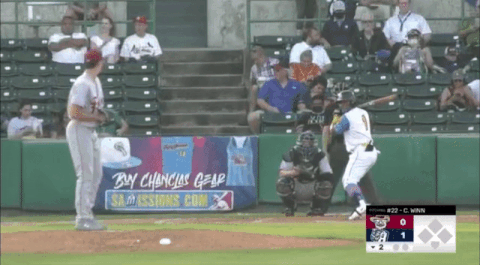 Winn operates with a fastball that comes in around 93 - 95 mph, topping out at 96 rarely. The slider and changeup are crisp and come out of the same release point as his fastball, so he should have no problem tunneling his pitches. The changeup has made some great developmental strides in the last two years, advancing from a rarely used secondary with poor feel to a frequently relied on off-speed offering that plays well off both the slider and fastball. The changeup could use further refinement, as the velocity readings between it and the slider are starkly similar. Further development in the changeup would better distinguish it from the slider and equip Winn to succeed against more advanced hitters.
Winn's curveball comes in ranging in the mid-to-high 70s with true knee buckling 12-to-6 action. The curveball is his best pitch and grades out as a plus offering. Along with his plus fastball, Winn has an excellent combo to use against opposing hitters. His command of the curveball is advanced for his age, and I'd expect it to tighten up further as he continues to deploy it for in-game reps. Combined with the development of a potential above-average slider and a potential average changeup, Winn's arsenal features four average to plus pitches (50 - 60 FV). Here he elevates the fastball to record the K against CJ Abrams, a consensus top 15 overall prospect in all of baseball.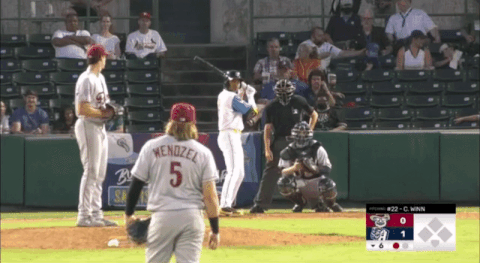 Winn's delivery is fluid, repeatable, and conducive to throwing strikes frequently. The potential is certainly there for average to above-average command to develop. His ability to pinpoint his release point has reemerged from his initial struggles after coming out of the infamous deload program, so I'm fairly confident in projecting him with real MORP upside. What he's shown at Frisco thus far merits serious consideration for top 100 prospect lists.
DeMarcus Evans: Round Rock Express (AAA)
As y'all should be, I am a sucker for prospects from the south who have the accent to prove it. DeMarcus Evans is an enormously sized human being at 6' 5" and 265 lbs. While that mass fails to generate plus velocity, the spin rates on his fastball are remarkable. Since I started writing this, Evans was promoted to MLB and flashed the fastball's spin rate against Shohei Ohtani. Here against Yadiel Rivera, Evans works 3 straight fastballs for a quick K.
Good morning, good afternoon, and good night from the big man Demarcus Evans.

Evans pumps 3 fastballs by former Ranger Yadiel Rivera to quickly dispose of his first batter pic.twitter.com/scOlIHUBxR

— Walker Adams (@YMBPatLSB) May 17, 2021
When Evans is on, he works quickly, throwing strike after strike. However, his command is the only reason he is yet to assume a role as a high-leverage reliever. With a career 5.6 BB/9 in the minors, Evans has not consistently thrown enough strikes to merit an extended promotion to MLB.
Fortunately, his BB/9 fell to 4.7 in 5 appearances for Round Rock in 2021. Evans' control of his fastball is serviceable; it's in the control of his only secondary pitch that we see the command problems emerge. While the slider featuring some curveball-like break is a plus pitch, Evans is prone to letting it go early in his delivery, resulting in the occasional hanging breaking ball. At Round Rock there weren't nearly as many issues with the breaking ball as Evans had shown in previous years, so it looks like he's done an excellent job of refining the pitch. Against former Mariners catcher Luis Torrens, Evans uses the slider to get the K.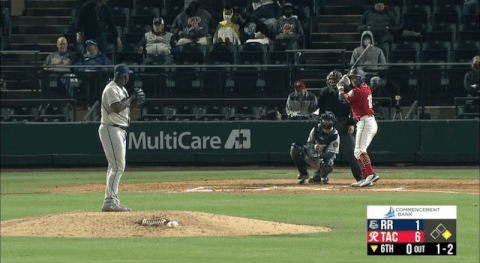 With the recent improvements to his ability to command his excellent stuff, Evans can quickly ascend the Rangers' bullpen hierarchy. He has a realistic role as a high-leverage reliever if the command improvements stick, so be sure to watch if his command remains accurate as he continues to accrue experience in MLB.
Minor League Oddity of the Week
While this one is less odd, given that many pitchers do it, this section gives me an excuse to post a gif of Hans Crouse's infrequently used shimmy-shake delivery. I love his selective deployment of the delivery alterations that disrupt the opposing hitter's timing. The guy Crouse did this to had raked against Frisco's other pitchers, and Crouse's disruption of his timing did a great job to ensure he did not succeed against him.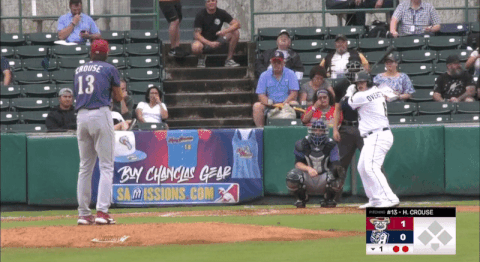 That concludes our overview of how some of the farm's arms are progressing. Next week, we will be evaluating the progress of one hitter at each Rangers' affiliate. If you have any specific names in mind, feel free to suggest them in the comments.