With no Rangers baseball and just one of the four affiliated minor league teams in action on this Memorial Day, it seems like the perfect time to step back and take a look at some of the system's hitters. Fangraphs also recently just released their review of the top-65 prospects in the Rangers' system, and while I have a bone to pick on some of their evaluations (i.e. grading Curtis Terry's power at a 50, and putting Bubba Thompson as the 55th best prospect in the system), the article is definitely worth a read. This farm update reviews several of the dudes listed on the Fangraphs top-65 list of Rangers prospects. In ascending order from A ball to AAA, here are four guys with some tantalizing profiles.
Dustin Harris: Down East Wood Ducks (A)
The Mike Minor trade with the Oakland Athletics is beginning to look like a heist. For just a half-season of Minor's services, the Rangers received Marcus Smith, who I wrote up in the Hidden Gems series, and Dustin Harris. Fangraphs now has Smith listed as the 17th best prospect in the Texas system, and Harris as the 20th best Rangers' prospect.
Drafted in the 11th round out of St. Petersburg College, Harris is a 6' 2" 185 lb. infielder with plenty of room left to fill out. He is seeking to become the second player to appear in a Rangers uniform after having played at St. Petersburg, with Bobby Wilson being the first.
Working against his success, Harris' swing features a relatively flat bat path that too often levels out at the point of contact. This leaves him without the ability to generate much lift on the ball, and frequently turns potential home runs into doubles. As you can see here, Harris punishes a ball into the gap for a solid double, but with greater lift in his swing this would have been an easy homer.
The good news is that Harris is clearly working to generate more lift on the ball. He has shortened his stride from previous year's and is waiting to fire into his swing from his pre-load stage longer, thereby allowing the ball to get deeper into his hitting zone. The force generated from his core's axis of rotation along with his plus bat speed indicate the potential for plus power in Harris' game. When it all comes together he can destroy the baseball, as he did here when he walked off a recent win for the Down East Wood Ducks.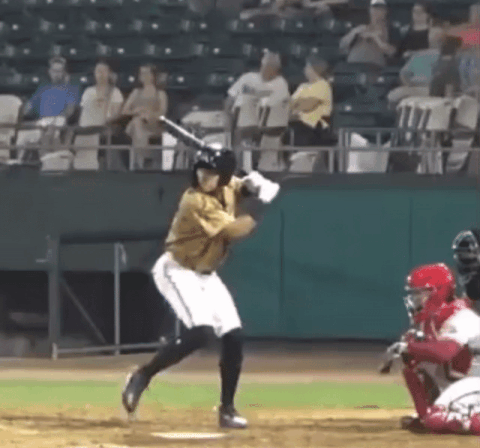 Harris has a surprisingly short stroke that gets to contact around the entire strike zone, allowing him to maintain just a 15.3% strikeout rate in his MiLB career. He has a good feel for the zone, but rarely passes up the opportunity to swing at a borderline pitch, leaving him with just a 5.9% walk rate in 2021. The hit tool is the most impressive part of his game, as it will likely end up above-average.
The primary question with Harris is going to always be the development of respectable in-game power. As a likely first base prospect, Harris will have to slug his way to MLB. Without significant in-game power development, he will not be a viable first baseman. However, the tools are certainly there for him to continue growing into further power. With greater development in his already muscular frame, Harris will likely add more raw power. Continuing to increase his swing's launch angle will also greatly increase Harris' ability to hit for power.
As a final note on Harris, it does not appear there have been many reports on his baseball awareness and speed. He is clearly an intelligent player, as he looks to utilize his average speed on the bases. Here, he started playing mind games with the Kannapolis starter, and after drawing several pick off throws, seized the opportunity to take third base.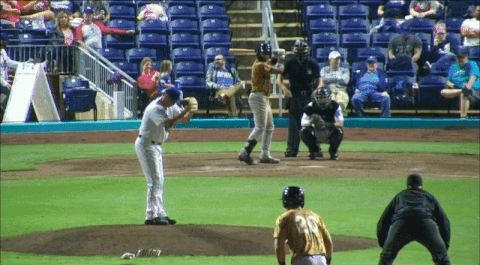 By putting pressure on the defense, Harris was able to singlehandedly manufacture a run. His gait is the cleanest of any prospect in today's article and his fluid strides allow his speed to play up during in-game situations. Harris was largely an afterthought in the Mike Minor trade, with Marcus Smith being the headliner. Clearly, that was a mistake. As we continue to search for positive development stories from the farm, each of us should keep an eye on the development of Harris' slugging in 2021. Currently, Harris' .364 slugging percentage is slightly above the .357 league-average mark in the A ball East league. If that trend holds, it is certainly a development win.
Jose Acosta: Hickory Crawdads (A+)
Hickory finally plays at a stadium that has a streaming agreement with MiLB.tv this week, so I will be sure to gather some film on the names we previously covered for the Crawdads. In the meantime, we are taking a look at the player the Rangers received from the Reds in exchange for Scott Heineman.
Acosta's evaluation is a tricky one as there isn't a ton of publicly available film to go on with him. However, in his limited time in professional baseball, Acosta had shown enough to nearly make the Hidden Gems series published earlier this season. He is likely a long-term second baseman, but his switch-hitting profile provides quite a bit of intrigue. In this clip, you'll see Acosta hit his first home run in full-season ball.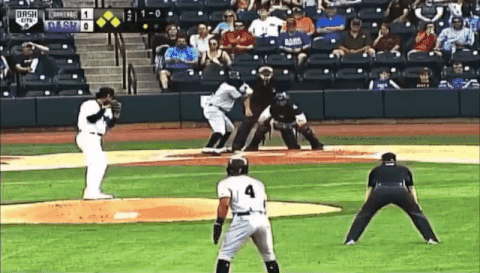 His swing is relatively similar from both the left and right-handed batter's boxes, with a small step forward to time his pre-load phase. The swing is unrefined, to put it kindly. But just because it doesn't fit some preconceived notion of ideal swing mechanics doesn't mean Acosta can't be successful with it.
His hips open a bit early, which might cause him to lose in-game power against more advanced stuff on the outside half of the plate. At present, he can turn on and damage inside pitches well, so I don't think handling velocity will be a problem for him at all. Similarly to what the Texas development staff did with Davis Wendzel, they can coach Acosta's swing mechanics up.
That coaching process will allow him to fire later and better equip him to get to outside pitches. At this point, Acosta needs to simply keep piling up in-game reps. He hit a combined .395 across the Dominican Summer League and Arizona Rookie League in 2019, but with the long layoff in 2020 didn't have an opportunity to continue refining his swing. With the opportunities Acosta will get at the plate this season, the swing should continue to develop into one that better captures long-term success.
Defensively, Acosta appears to be a true second baseman. Cincinnati tried him at third base in 2019 and the experiment was less than ideal, with 16 errors in 115 defensive opportunities, translating to an .861 fielding percentage. In just 12 defensive opportunities at shortstop with Hickory, Acosta's committed 2 errors, so it looks unlikely he'll develop much utility value. A potential move to the outfield could add utility value to his profile, and with an 89.6% success rate on stolen bases in his career, Acosta certainly has the speed to capably manage any of the three outfield positions.
I would expect the Rangers to give Acosta every opportunity to develop defensively, as that would create the best chance for him to reach MLB. Ultimately, he will have to be a bat-first guy, so keep an eye on his offensive development throughout the rest of the 2021 season. Funnily enough, Acosta's swing is reminiscent of Rougned Odor's film from 2010, before he signed as an amateur free agent with the Rangers. Acosta remains the epitome of the wait-and-see guy, as I really don't have enough film yet to be comfortable making too many declarative statements on his profile.
Bubba Thompson: Frisco RoughRiders (AA)
Having recently written up Bubba Thompson in the Hidden Gems series, it's been nice to see him put up a .289 / .354 / .522 triple slash (.876 OPS) in his first exposure to AA baseball. After just a month Thompson warrants another writeup, as some have used his recent listing as the 55th best prospect in the Rangers' system to write him off entirely.
To do that would be a mistake, as Thompson's power-speed combo remains one of the most compelling tool sets across the entire farm. When he was drafted 26th overall there was real potential for a 20 homer, 20 steal guy to emerge. That potential is still there, but I'd temper expectations because that is his absolute 99th percentile outcome. As you can see here, Thompson's speed routinely powers him around the bases quickly.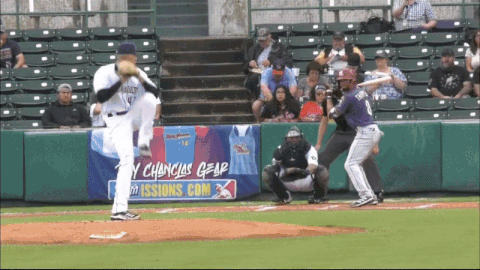 The best thing about Thompson's impressive speed is he can actually get faster! Grading speed is a tough thing to do, but my background in collegiate track and field grants me some insight here that others may have overlooked. Thompson's feet are far from being utilized efficiently in his stride. He runs with a heavy footfall, as his feet often strike the ground flat, or on his heels. Here's Thompson's foot landing on it's heel: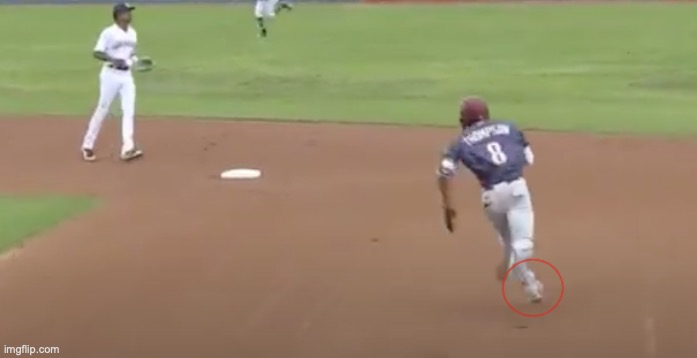 This motion is caused by overstriding. Simply put, overstriding is when a runner extends their stride too far beyond their center of gravity, thereby causing their heel to strike the ground first. This increases braking forces in one's stride and reduces the efficiency of their sprints. Over longer distances, heel striking can lead to several different injuries in both soft-tissue (plantar fasciitis, achilles tendinitis) and bone (ankle and knee joints), as the excessive pronation associated with heel striking places disproportionately larger impact forces on these bodily groups.
By reducing his stride, Thompson would increase his sprint's efficiency, increase the propulsion produced from his foot driving off the ground, increase his effectiveness on the basepaths, and slightly reduce his injury risk. The second problem with Thompson's running form is his poor utilization of his arms as a component to power his stride's acceleration.
The overstriding plays an outsized role in the underutilization of his arms, as it's clear Thompson is attempting to get faster by primarily moving his legs, rather than moving his body as a dynamic force. In the above clip, Thompson doesn't really utilize his arms until he gets past second base. And even after bringing them seriously into his stride, they wave primarily side-to-side, rather than up-and-down.
That arm motion is another inefficiency that could be eliminated from his stride. He's running with a bit of a loose torso, and the arms moving outward further encourage his torso to fire to compensate for the unnecessary movement. In the most ideal sprinting form, you want your arms pumping backward and forward, with basically no appreciable movement across the body. Thompson is basically chicken winging his strides, and loosing energy, efficiency, and effectiveness in doing so. If he can bring his arms back inside his body, and keep his elbows tight to his hips while pumping his arms, his speed will improve.
Thompson's speed would not improve to Usain Bolt, or even Billy Hamilton levels, but these are the type of mechanical improvements that can improve 60-grade speed to 65-grade speed.
As I was going over his 2021 film, the inefficiencies in Thompson's sprint form jumped out, and I figured y'all would appreciate a more informed perspective than I had previously shared in that regard. To return to his swing, Bubba's been hitting some absolute nukes lately.
The only question in Thompson's profile remains the hit tool. As a component of that tool, his spin recognition skills will have to improve. Though, in the looks I have gotten this season, he's looked better than he has previously against breaking balls. Most of the publicly available evaluations on Thompson have neglected to mention his value as a potential platoon outfielder. Over his MiLB career, Thompson has mashed against left-handed pitching, putting up the following OPS each year:
2021
vs RHP: 73 plate appearances, .698 OPS

vs LHP: 28 plate appearances, 1.377 OPS
2019
vs RHP: 166 plate appearances, .651 OPS

vs LHP: 62 plate appearances, .362 OPS
2018
vs RHP: 233 plate appearances, .774 OPS

vs LHP: 134 plate appearances, .834 OPS
2017
vs RHP: 92 plate appearances, .651 OPS

vs LHP: 31 plate appearances, 1.067 OPS
Combine his potential value as a platoon outfielder with the career low strikeout rate Thompson has posted in his first 101 plate appearances at AA and he looks the part of a legitimate prospect. The jump from A+ ball to AA is traditionally the toughest challenge for a minor leaguer. Thompson's acquitted himself well thus far — he's not the #55 prospect in this system.
Yonny Hernandez: Round Rock Express (AAA)
This was another player requested by y'all. Round Rock recently announced that Yonny Hernandez had been added to the Venezuelan national team's roster. He will be suiting up at noon today for the Venezuelan national team, in a bid to qualify for the Olympics. You can catch those games, and all the games in the Americas Olympic Qualifying Tournament via ESPN+, here's a link to the broadcast schedule.
Yonny is the truest example of 20-grade power that exists in the Rangers system. His slugging percentage will mirror his batting average, as he will do little to no damage for extra base hits. The swing slashes down at the ball, leading to an inordinate amount of grounders that manage to find holes. He's posting an absurd 62.5% ground ball rate in 2021 with the Round Rock Express. Those ground balls don't always tend to get through nearly as easily in MLB, so I'm a bit skeptical as to whether his approach will play in Arlington. Here you can see Hernandez use his bat to flick a grounder right back up the middle.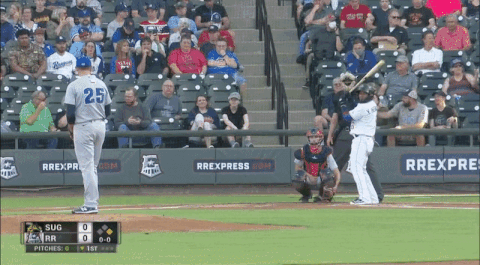 In MLB, pitchers are quickly going to figure out that if they challenge him with their best fastball in the zone, Hernandez won't be able to do much against it. With that in mind, I would expect his career 15% walk rate in MiLB to decline upon a promotion to MLB. Any decline in his walk rate will hamper his ability to keep up the excellent .392 career on-base percentage Hernandez has posted across 6 seasons in the minors.
One thing I do love about Yonny Hernandez is the way he runs the bases. He is always aggressive, and it can sometimes run him into trouble with a career 70.6% success rate on stolen bases, but his aggressiveness keeps the defense on its toes. That aggression also leaves him in perfect position to capitalize in case a fielder approaches one of his hits lazily, bobbles the ball, or throws the ball away.
Hernandez also knows how to work an at-bat, with him often seeing 4+ pitches. But the offensive ability isn't there to project any sort of everyday role in MLB. He's almost guaranteed a bench role at this point, as I don't think another team will let him slide through minor league free agency this offseason, without signing him to pencil him in as a late-inning defensive replacement and pinch runner. Hernandez's speed is the most impressive part of his game.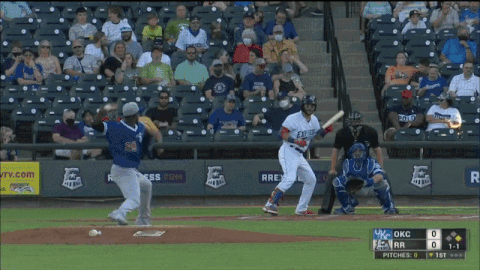 Similar to Bubba Thompson, Hernandez could use improvements in his arm action while sprinting to improve his speed. His flailing arms as he runs are more noticeable than Thompson's, and could be easily rectified with attention to his running mechanics in practice. I am fairly surprised at what appears to be a lack of attention in minor league development for running mechanics and gait analysis, as the same problems can be seen across many teams' prospects. There's an unrealized competitive advantage here, just waiting to be tapped into by a resourcefully innovative club.
Hernandez's 60-grade speed puts a strain on defense's, leaving them to hurry their motions and make mistakes on otherwise commonplace plays. The speed, combined with his ability to put basically any pitch into play will make Hernandez a bench piece that any MLB team would like to have available. Though, the overall profile isn't particularly valuable, good bench pieces can be important pieces in ensuring winning teams remain successful (think Andres Blanco giving Elvis Andrus the occasional day off, and stepping in to provide replacement-level value while Ian Kinsler was injured in 2010). Hernandez is as close to that bench role profile as a guy can get without having MLB experience. None of us should be surprised to see him open the 2022 season as the utility infielder for the Rangers, or any other big league club.
Minor League Oddity of the Week
Cole Winn conducted a masterful performance on the mound, no-hitting the Midland Rockhounds over 6 innings. His start reached a crescendo when a fox made a mad dash across the field. I'm not quite sure of the fox's hit tool, but it is showing true 80-grade speed. With MLB scouting department's fascination over toolsy prospects, the fox certainly warrants a tryout in Arlington at the very least.
If you would like to read more on Winn, feel free to check out last week's installment of this prospect series, where he received an in-depth writeup. Hopefully, Winn continues to entertain all types of species while he's on the mound.
That wraps up our overview of how some of the farm's bats are progressing. Next week, we will be checking in on the progress of one pitcher at each Rangers' affiliate. If you have any specific names in mind, feel free to suggest them in the comments and I will do my best to get around to evaluating your suggested prospects!