Glenn Otto scouting report: Texas Rangers pitcher Glenn Otto threw 73 pitches in his MLB debut, representing just under .004% of the 18,391 pitches thrown by the Texas Rangers in 2021. These 73 pitches left Astros batters frustrated, and powered Otto to one of the most impressive pitching debuts in Rangers history. To get an impression of the pitches that compose Otto's repertoire, let's take a look at some of the data from his debut.
Throwing his four-seam fastball and slider more than 80% of the time, Otto operates off a two-pitch mix, which has led many to speculate his best long-term projection is in a bullpen role. With the recent breakout success of two-pitch starting pitchers like Kevin Gausman, Lucas Giolito, and Jack Flaherty, I tend to disagree with that reactionary classification of all two-pitch pitchers as bullpen pieces. The critical component of any starter's long-term projection will always be the quality of their stuff, their ability to command those pitches, and the extent to which a pitcher's mechanics both create hip and shoulder separation and produce power from their lower body.
Otto checks each of those boxes. With an above-average fastball that sits 91 - 93 MPH with the potential to reach 95 MPH on occasion, Otto has a good foundation to build from. The fastball isn't a spin-rate monster, but the 2359 rpm on Otto's best fastball places it squarely in the top-third of MLB. The second, and most impressive pitch Otto throws, is his slider. It grades out as a plus pitch. The slider's break, and Otto's command of the pitch, has made it his safest pitch to throw in situations where he needs a strike.
With further refinement, the slider should continue to improve for Otto. Fortunately, he began throwing a slider in 2021, so there likely remains some room for him to improve his feel for the pitch. Given that room for improvement, the fact that Otto can already generate spin like you'll see in the clip below has to be scary for opposing hitters.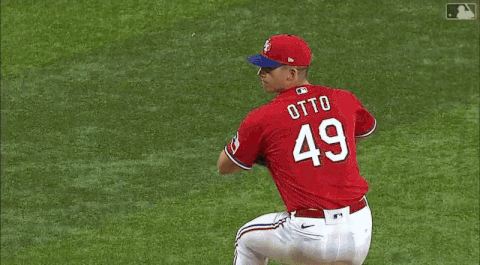 Otto will mix in an occasional changeup, which given his poor feel for the pitch and the changeup's inability to miss bats, carries a below-average grade. The final pitch is an interesting curveball that Statcast logged as a knuckle curve. Interestingly, Eric Longenhagen over at Fangraphs said Otto "flashed a 70 curveball," before being sidelined by a blood clot issue in the 2018 season. Longenhagen's grade on the curve has since been moved down to a 60, but that pitch, when effectively mixed in with the slider and fastball, should help Otto maintain a starter's repertoire.
Now that we have an impression of Otto's arsenal, it's time to look at how he likes to utilize each pitch. In both AAA and MLB, Otto has thrown the changeup and curveball so infrequently as to be negligible in this analysis.
Otto threw his 4-seam fastball as the first pitch of an at-bat to just under 2⁄3 of opposing batters, sometimes mixing in the slider to start off an at-bat. Using the slider as his out pitch, Otto recorded 6 of his 7 strikeouts and 88% of his whiffs with the slider. Otto's typically going to try to set you up with the fastball, mix in one of his offspeed offerings, and then return to the fastball for the third pitch of the at-bat.
On just four occasions, Otto threw the same pitch twice to begin an at-bat. Three of these times, Otto threw his fastball to begin an at-bat, using the slider repeatedly just once in the beginning of an at-bat. Otto will then typically return to the slider to get you out if the at-bat goes beyond three pitches.
In the 1⁄3 of situations where Otto started off a batter with a pitch other than his fastball, he threw his fastball as the second pitch of the at-bat 71% of the time. Otto's pitch sequencing can improve, and this is where the game-calling skills of both Jonah Heim and Jose Trevino can be of immense help to the rookie starter.
The skill that has received relatively little attention is Otto's plus command. He knows how to paint the edges of the strike zone as if they were a fresco in St. Peter's Basilica. In AAA in 2021, Otto threw a strike with 68.7% of his pitches. If he maintained that rate and met the qualifying innings standard for starting pitchers, he would rank 4th in MLB. In the following clip, you'll see Otto use his fastball to almost imperceptibly hit the inside-edge of the strike zone.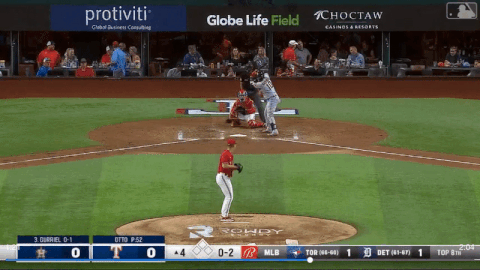 Otto commands his pitches so well because of the strength of his mechanics. He remains balanced throughout his delivery and utilizes his excellent lower-body strength to power his pitches. The only observable violent action is when Otto's arm whips backwards after releasing a pitch. That whipping action could give rise to some long-term injury concerns, but basically every pitcher has long-term injury concerns.
Following his debut, Otto measured with an average release extension of seven feet, which ranks 42nd among all pitchers in MLB. This performance puts Otto in the 96th percentile, meaning he's generating elite extension with his delivery.
While Otto's 6' 3" 240 lb. frame undoubtedly equips him to extend well, the right-handed pitcher's ability to create hip and shoulder separation carries him into the league's elite. The inherent advantage of extending longer distances is that a pitcher is essentially shortening the distance travelled for the ball to reach an opposing batter, thereby significantly reducing a batter's available time to determine what pitch is incoming and whether they should swing at it. This compression of time also makes each of his pitches look faster than they are. By extending so well, Otto is actively tricking hitters into perceiving additional velocity to each of his pitches.
Lastly, Otto's ability to tunnel each of his pitches is splendid. Simply put, tunneling involves replicating the same release point and trajectory to create the illusion that different pitches are actually the same pitch. Here you can see Otto's slider and fastball come out of the same release point, follow the same general trajectory, and quickly divert just as they are about to reach the batter.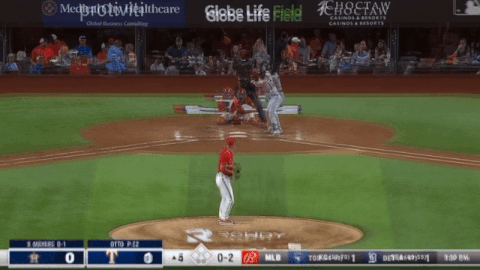 As noted earlier, a starter's evaluation hinges on their mechanics, the quality of their pitches, and their ability to command each of those pitches. The 1000 words you just read lay out a (hopefully) convincing case for why Glenn Otto checks each of these boxes. Ultimately, we will need more information about how MLB hitters adjust to Otto's repertoire before giving a definitive determination on whether or not he can start in MLB; however, the ingredients are all there for Otto to be a successful starting pitcher for years to come. I hope you learned something about him, and look forward to continuing to bring y'all interesting information on the Rangers' players of today and tomorrow.